Image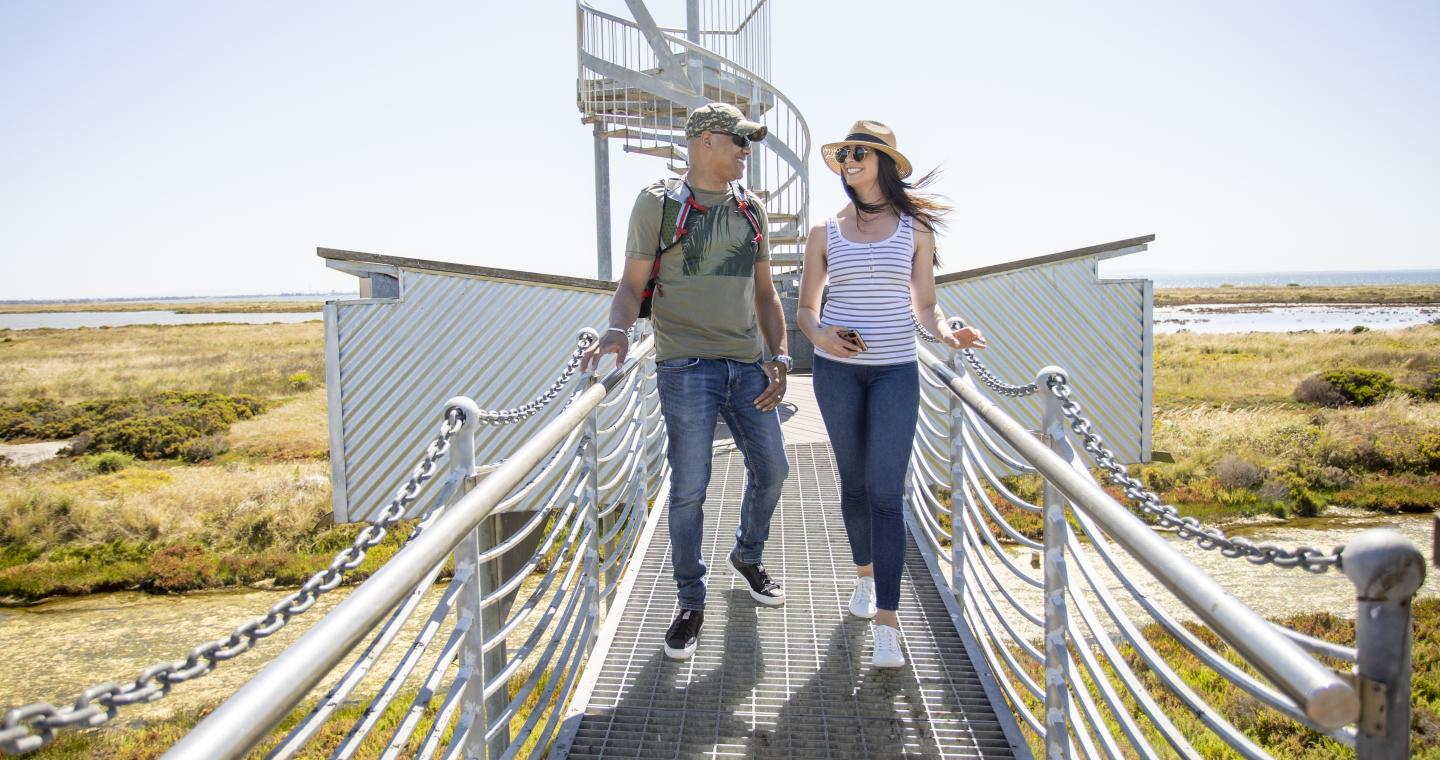 Looking for places to explore this Autumn? We have plenty of ideas for some last-minute day trips to Werribee and Surrounds. Whether it's getting out into nature, discovering the best foodie finds in the west or keeping the kids entertained – we have you covered. You'll feel like you're a world away, and being only 30 minutes from Melbourne's CBD, means more time to enjoy your day out.
The Foodie Day Trip
It wouldn't be a foodie adventure if you didn't start with brunch, and with the all-day brunch-menu at Wolf on Watton overlooking Werribee River, you can't go wrong. Try the Alfa Wolf if you're feeling hungry - two eggs, potato rosti, mushrooms, chorizo, bacon, pork belly, and tomato and chickpea stew. Their menu is seasonally inspired and creatively curated with local, market-fresh produce.
After a leisurely brunch, take a two-minute stroll to Meli's Deli. This café, deli and grocer offers imported goods, deli meats, cheeses and great coffee – it's a little slice of Italy right in the heart of Werribee. Pick up some Italian pasta, sauces and spreads, and try one of their freshly made cannoli. Before leaving Watton Street, grab a coffee for the road from specialty café Notorious Espresso. You'll also find a selection of coffee beans, chai and coffee making equipment so you can practice your barista skills at home.
Next, make your way to Werribee South where you'll find Wyndham Cache, a café and gourmet deli with fresh eggs produced on the farm next door. Stock your hamper or pre-book a grazing box to enjoy in the picturesque gardens of Werribee Park, with the entrance to the Werribee Park Precinct just on the other side of K Road. You can also pick up grazing hampers at The Refectory Parlour (order 48 hours in advance), just beside the heritage-listed Werribee Park Mansion. While you're there, take a tour of the Mansion for a small fee and learn more about its fascinating history.
If you still have room for dinner, why not indulge your palate at Joseph's Dining, located at Lancemore Mansion Hotel. Consider booking in advance to avoid disappointment. Choose from either the delectable summer menu or the exquisite five-course tasting menu where the chefs will lead you on a sensory adventure. Joseph's serves deliciously fresh, seasonal produce and offers more than 200 wines in the cellar. Bon appétit!
The Adventure Seeker Day Trip
Pack your bikes and kayaks for an adventure-filled day out.
This day trips begins with the Skeleton Creek Trail, starting from 1 Boardwalk Boulevard Point Cook. The off-road, shared path trail is 13km return and takes you to the edge of Cheetham Wetlands  in Sanctuary Lakes. Enjoy the views of the creek and surrounding parkland along the way, and once you arrive at Cheetham Wetlands you'll find lovely views of the wetlands, observation tower and city skyline. Alternatively, if walking's more your style you can enjoy the Point Cook Coastal Park Beach Walk or Cheetham Wetlands Tower Walk.
Make your way back to the beginning of the trail and stop at Little Espresso for lunch, just a few minutes away from your original starting point. The cosy cafe faces the bustling Main Street and offers a range of pies, slices, salads, toasties and more.
Now for some kayaking or paddle boarding adventures. There are two popular launching sites to access Werribee River and Port Phillip Bay, with routes recommended for experienced kayakers and paddlers. To paddle down Werribee River, head to the Riverbend Historical Park where you'll find a sign-posted launch just off the trail near the car park, with barbecues and picnic tables also available.
At Werribee South, you can launch from the shallow boat ramp on the far right, or from the beach areas next to the jetty. From here you can paddle in the open water east towards Wyndham Harbour and Point Cook, or west towards Point Wilson. Make sure to check our safety tips before considering kayaking or paddle boarding.
The Family Day Trip
Start the day in the heart of Werribee at Wyndham Park, which curves around the Werribee River and is just a short walk from the bustling café scene. There are two huge playgrounds to enjoy. The larger one is for thrill seekers with big swings, flying foxes, climbing frame and a giant, 11-metre slide tower. For the little ones, the nature play space is ideal, with its neat little cubby house, climbing structures, sandpits and waterplay features
Cross over the river at Wedge Street Piazza and make your way over to Watton Street where you'll find an adorable toy shop, Christian and Roy. Your children's eyes will light up when they see the beautiful wooden toys, books, and puzzles. There's sure to be a few toys added to their birthday wish lists before you leave the store! (Note: Christian and Roy is closed on Sundays).
Feeling peckish? How about dining in the cab of a truck or in the cargo hold? Stroll down Watton Street to have lunch at Truck Stop Deluxe, an American truck stop themed restaurant. It's guaranteed to be a hit with the kids, not just for the novelty of dining in a truck but the burgers are seriously good too. For a café style lunch, there are plenty of options in Watton Street such as Chatterbox Café. And if you're up for a little ice-cream treat, look no further than Augustus Gelatery.
For an afternoon of beach fun, head down to Werribee South Beach. This hidden gem of the west is popular for boating and fishing, and is a great spot for picnics, with stunning views across Port Phillip Bay. The kids will love the playground and having a splash around in the shallow waters. During the summer school holidays the beach is patrolled by Life Saving Victoria. Across the road you can also pick up a coffee or some fish and chips at Anglers Anchorage.
If the weather calls for inside activities, an afternoon at WYNCITY Bowl and Entertainment  will provide hours of family fun. Located in Point Cook, the indoor entertainment centre features 24 lanes of tenpin bowling, a laser tag arena, bumper cars and over 70 arcade machines. There's also AquaPulse, a huge indoor leisure centre with an aquatic playground, shallow pools and two gigantic water slides.
The Explorer Day Trip
Follow the Bay West Driving Trail Route 11,  for a journey full of surprises. This relaxing, self-paced driving tour captures the essence of the region, taking in many of the most-loved attractions while dishing up some amazing food and wine experiences along the way.
To start your journey, pick up a map from the Visitor Information Centre then hit the road to discover all this and more.
Image