Image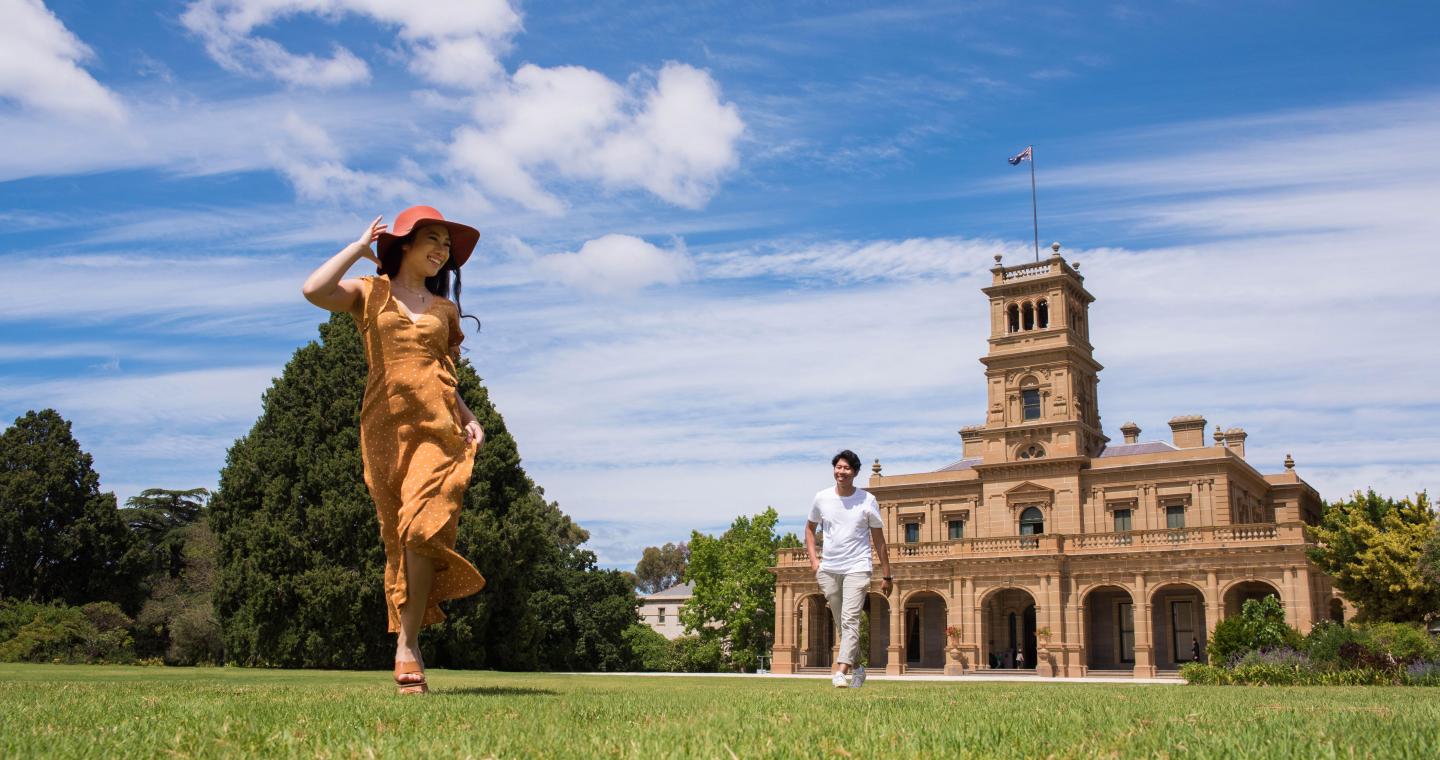 48 Hours in Werribee & Surrounds
Wide open spaces, beautiful gardens, walking trails and coastal discoveries far from the crowds – you'll feel a world away from the city with a visit to Werribee & Surrounds. Spend a leisurely two days exploring the area, enjoying fine food, animal encounters and much more along the way.
DAY 1 – WERRIBEE PARK PRECINCT
MORNING
Start your journey at Werribee Park - home to a 60 room Roman Renaissance Revival style mansion, heritage listed trees, an internationally recognised rose garden, heritage orchard, native woodlands, an award-winning winery and a 5-star hotel, Werribee Park is a must visit location where history and heritage combine with nature and luxury. 
The impressive and stately Werribee Mansion is the centrepiece of the precinct. Completed by wealthy pastoralists, the Chirnside family in 1877 and built in the Italianate architecture style, it is a living, breathing postcard of the 19th century. Head inside the Mansion and step back into a bygone era.
The gardens surrounding the Mansion are equally impressive, featuring 10 hectares of manicured lawns and gardens and an original farm yard and orchard – wand through the gardens to the impressive Victoria State Rose Garden. Spread over six acres and with 5,000 roses on display, this internationally acclaimed garden, which is managed entirely by volunteers, is the first garden outside of Europe to win the World Federation of Rose Societies Award for Garden Excellence.
LUNCH
A short stroll away, Shadowfax Winery serves up delicious food, paired with award-winning wines. Enjoy a wine tasting in the underground Barrell Room before staying on for lunch. Or alternatively, pick up one of their picnic hampers and enjoy lunch within the sprawling gardens of Werribee Park.
Picnic hampers can also be collected from Joseph's Restaurant at Lancemore Mansion Hotel or from The Refectory Parlour – the Precinct's newest food offering. Those with a sweet tooth can also enjoy a cake from the decadent cake counter within the Parlour. 
AFTERNOON
Next stop is the Werribee Open Range Zoo where you can meet curious meerkats, head off road though the savannah spotting rhinos, giraffe, zebra and hippos, come face to face with lions on the prowl or take a leisurely wander through the Australian Journey to spot kangaroos, koalas and other native wildlife. Join one of the Zoo's animal encounters for an extra special experience, options include an Early Morning Savannah Experience, Hippo Wild Encounter, African Wild Dog Encounter and Ranger Mystery Tour.
DINNER
If staying within the Werribee Park Precinct, choose from either Joseph's Dining at Lancemore Mansion Hotel or Shadowfax Winery on a Friday night (spring and summer).
AFTER DINNER
Learn about the fascinating history of Werribee Mansion by joining a night tour with Essence Productions. Called What Was That? this roaming play combines history, comedy and scary elements. Tours run on weekend nights.
OVERNIGHT
Werribee and Surrounds offers a broad range of accommodation from a luxurious mansion, apartments, friendly motels and caravan parks on the bay.
DAY 2 – BAY WEST TRAIL
One of the easiest ways to discover the best of Werribee & Surrounds is by driving the scenic Bay West Trail, discovering one of Melbourne's largely untouched bayside regions along the way. 
Easily accessible from the Princes Freeway (M1) this driving route takes you through the heart of the Werribee South market garden region, with over 3000 hectares of cultivated land. The drive also takes in attractions such as Wyndham Harbour, RAAF Museum and the Point Cook Coastal Park and Marine Sanctuary, just to name a few.
BREAKFAST
Fuel up for a day's adventure with a hearty breakfast from Wyndham Cache. Be sure to stock up on some local goodies from the deli before hitting the road.
MORNING
Start by checking out the K Road Cliffs (also known as the Red Cliffs of Werribee), these impressive limestone cliffs tower over the Werribee River, changing colour throughout the day depending on the direction of the sun. The cliffs are also a prime location for spotting native wildlife and migratory birds.
Further along, Campbells Cove Boat Houses are a quirky and colourful collection of beach houses which have brightened the foreshore between Campbells Cove and Bailey's Beach since the 1920s. These 140 plus buildings are heritage listed and are individually owned. They are a must visit location when traversing the Bay West Trail. 
If the weather is warm, a visit to the Werribee South Foreshore is a must. Leisure activities on offer include boating, canoeing, kayaking and jet skiing. Picnic areas, walking trails, fishing and playgrounds round out the offering.
LUNCH
Grab a bite to eat at Wyndham Harbour - Melbourne's newest harbour suburb. After lunch stroll along the Boardwalk, taking in the views of Port Phillip Bay.  Weather pending, have a go at sailing or drop a line for a spot of fishing.
AFTERNOON
Continue your journey along the coast at The Point Cooke Marine Sanctuary. Located on the sheltered sandy shores of North-Western Port Phillip, the sanctuary is one of the most prolific areas of marine life in the Bay. The park protects 290 hectares of shoreline, making it the largest park in Victoria's system of marine national parks and sanctuaries.
LATE AFTERNOON / EVENING
After all your exploring, head into central Werribee for a well deserved drink and bite to eat. Popular spots include the Bridge Hotel Werribee and The Park Werribee. For additional food options, wander along Watton Street, Werribee's very own 'Eat Street' packed full of delicious food offerings from all around the world.