Image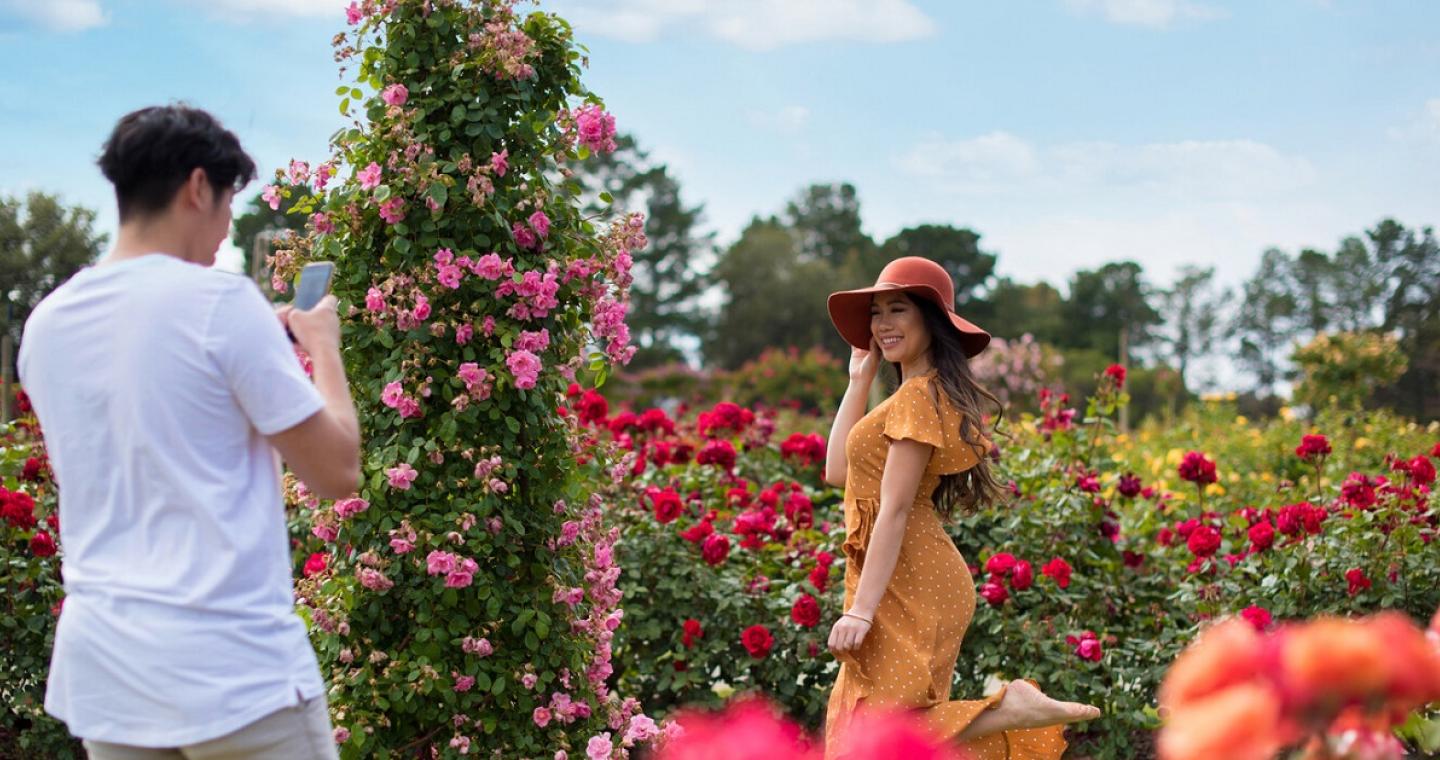 4 Day Couple's Getaway to Werribee
Werribee is home to wildlife adventures, heritage attractions and a buzzing food and wine scene – all just 30 minutes from central Melbourne and Geelong. This 4-day itinerary is ideal for a couple who love a new adventure. It's the perfect blend of luxury, nature, good food and fun times. The itinerary is designed to be taken as an extended long weekend break from Friday – Monday, with some activities available only on particular days.
Day 1 – Friday
Reconnect with your inner child
Morning
Today is all about reconnecting with your inner child and begins with a trip to the Werribee Open Range Zoo. You'll begin your Zoo adventure with a behind-the-scenes Ranger Mystery Tour at 11:10am. What animals will you see on the tour? That's all part of the mystery.
No two tours are the same! This 45-minute tour is $30 per person, excluding zoo entry which is $42 for adults. After this, head over to the Safari Bus Station to catch the 12:30pm safari through the savannah. Spot Zebras, Giraffes and more while you learn about the Zoo's conservation efforts. The safari tour runs for 40 minutes and is included with your entry ticket. It is recommended to book the Ranger Mystery Tour in advance.
Image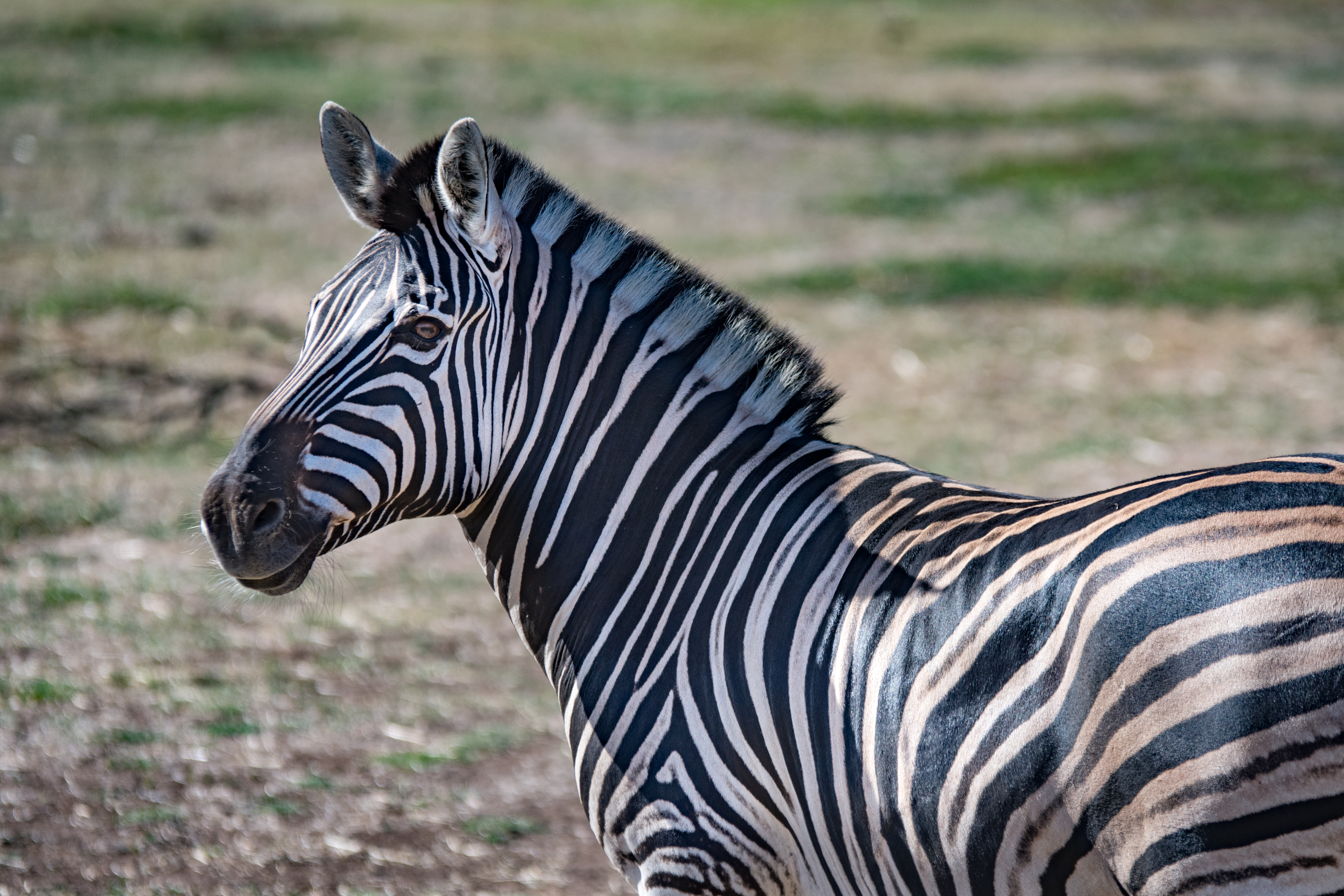 Lunch
Head over to the Meerkat Bistro at the Zoo to enjoy lunch while you watch the cheeky meerkats come right up to the window beside your table. There is also a large deck for alfresco dining overlooking the gorilla island exhibit. After you depart the Zoo, stop by the Werribee Visitor Information Centre, conveniently located next to the entrance to the zoo. You can pick up an official visitor guide and map, and chat to the friendly team of dedicated staff and volunteers who will happily share their local knowledge with you.
Afternoon
A few minutes' drive from the Zoo, yet a world away from the plains of the African savannah, you'll be immersed in the rich history and grand 1920s architecture of the elegant Lancemore Mansion Hotel Werribee Park. Check in to your Heritage Room from 2:00pm, which will be home for the next three nights. The Heritage Rooms were once the living quarters for trainee priests in the hotel's previous life as St Joseph's Seminary.
After checking-in, take a 15-minute drive via Werribee South's market gardens where you'll discover a picturesque marina at Wyndham Harbour. Here you'll find the region's latest attraction, The Elements Coastal Activity Park featuring an 18-hole mini golf course overlooking the Melbourne city skyline. It's not just for kids, so pick up a club and challenge your partner to a round! Mini golf is $15 per adult.
Image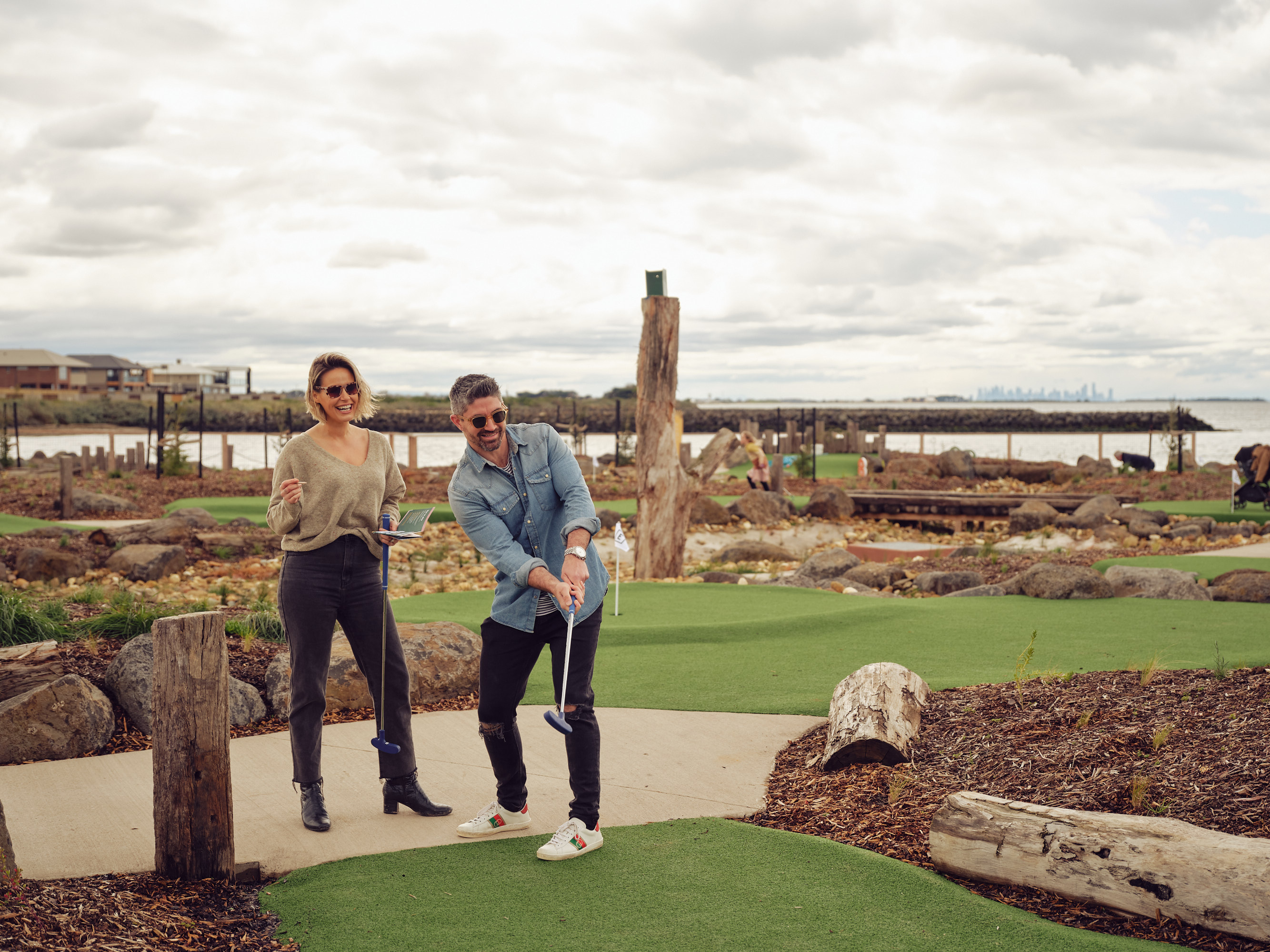 The mini golf course and surrounding landscape is inspired by nature and created with sustainability in mind. It features reclaimed wood from the nearby marina and 120-year-old railway sleepers from the old Geelong rail.
On your way back to the hotel, make a brief stop at the scenic lookout to admire the K Road Cliffs. These sculptural cliffs which overlook the Werribee River are a stunning red colour, changing colour throughout the day as the light changes.  
Dinner
Time to feed that inner child! Just a 15-minute drive from your hotel is Watton Street in Werribee City Centre (known as as Werribee's 'Eat Street'). You'll find some of the best burgers and milkshakes in town at Truck Stop Deluxe. Beyond the American style menu is a truck stop themed interior, complete with road signs and actual truck cabins.
If you are after a night cap before heading back to Lancemore Mansion Hotel, a few doors down there is a hidden door masking the entrance to Corked Wine Bar (look out for the special wine bottle that unlocks the door). Inside, the red velvet lounge by the fireplace is perfect for cosying up to your loved one over a glass of wine.
Image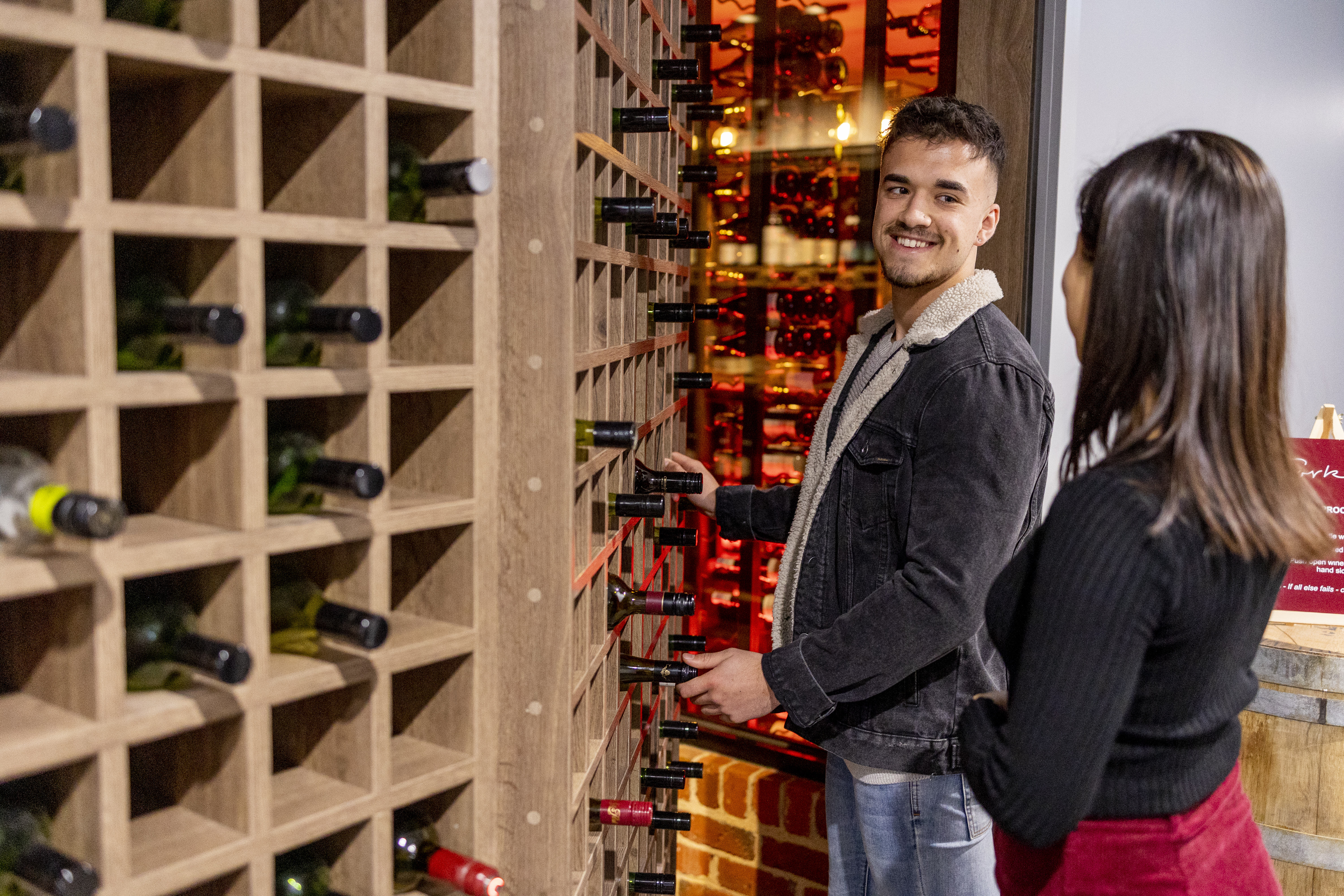 Day 2 – Saturday
Love is in the air
Morning
Breakfast is included for all guests staying at Lancemore Mansion Hotel Werribee Park, so make the most of their delicious spread, including cooked dishes and a range of continental delights.
While enjoying breakfast, look outside the window and you'll see your first stop for the day, Werribee Park Mansion. Completed in 1877 by Scottish pastoralists, the Chirnside Family, this grand 60-room Renaissance Revival style building is truly a step back into a bygone era.
Image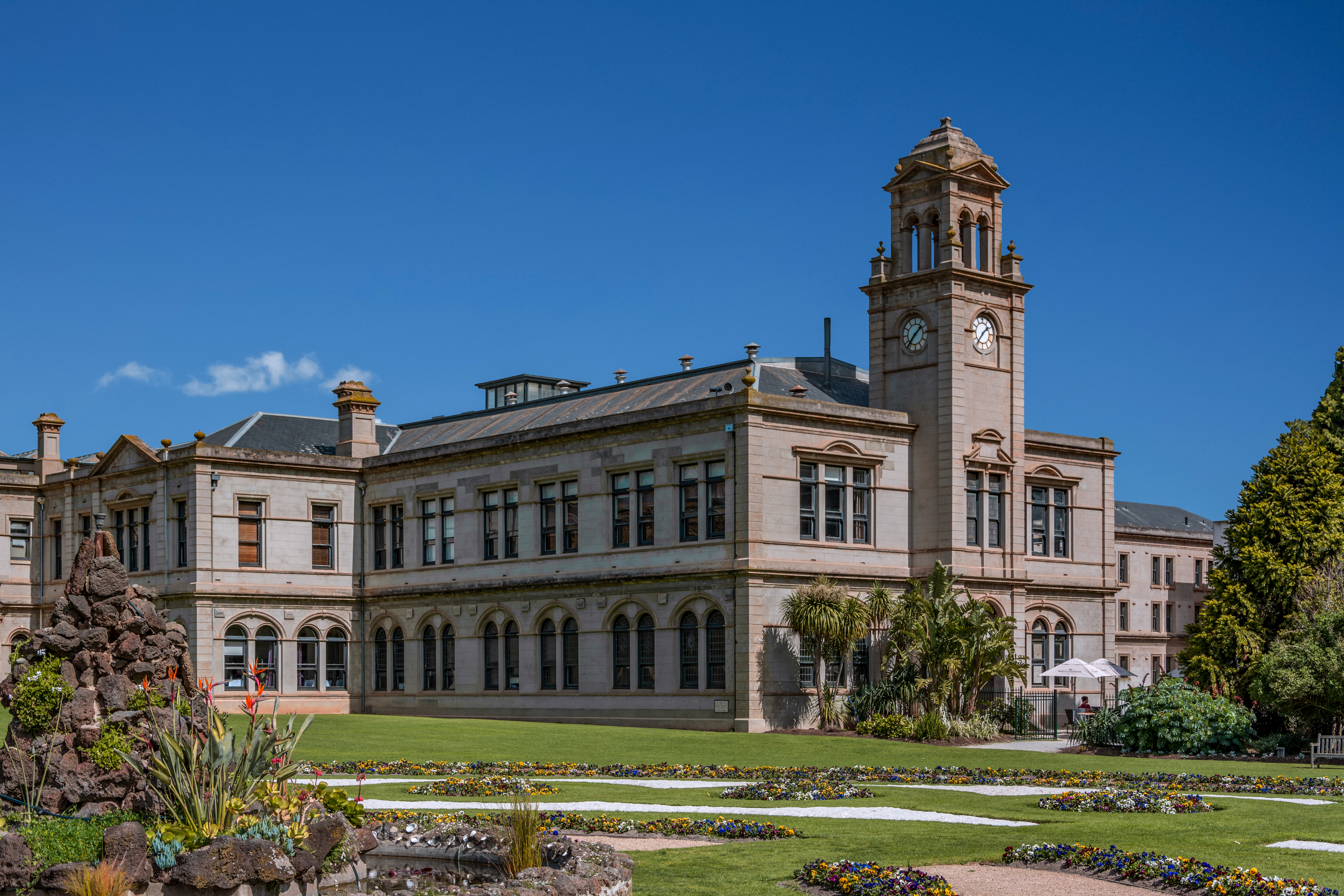 Begin exploring the Mansion at 10:00am and learn about its rich history with an audio guide or pre-booked guided tour. You may even recognise Werribee Park Mansion from the many films and TV series filmed there, such as Miss Fisher and the Crypt of Tears. Entry costs $11:10 per adult.
Lunch
After touring Werribee Park Mansion, take a five-minute stroll to Winery for a romantic lunch. From house-made linguine to confit chicken saltimbocca, Shadowfax showcases quality regional produce with an authentic Mediterranean influenced menu and, of course, incredible wines to match!
Image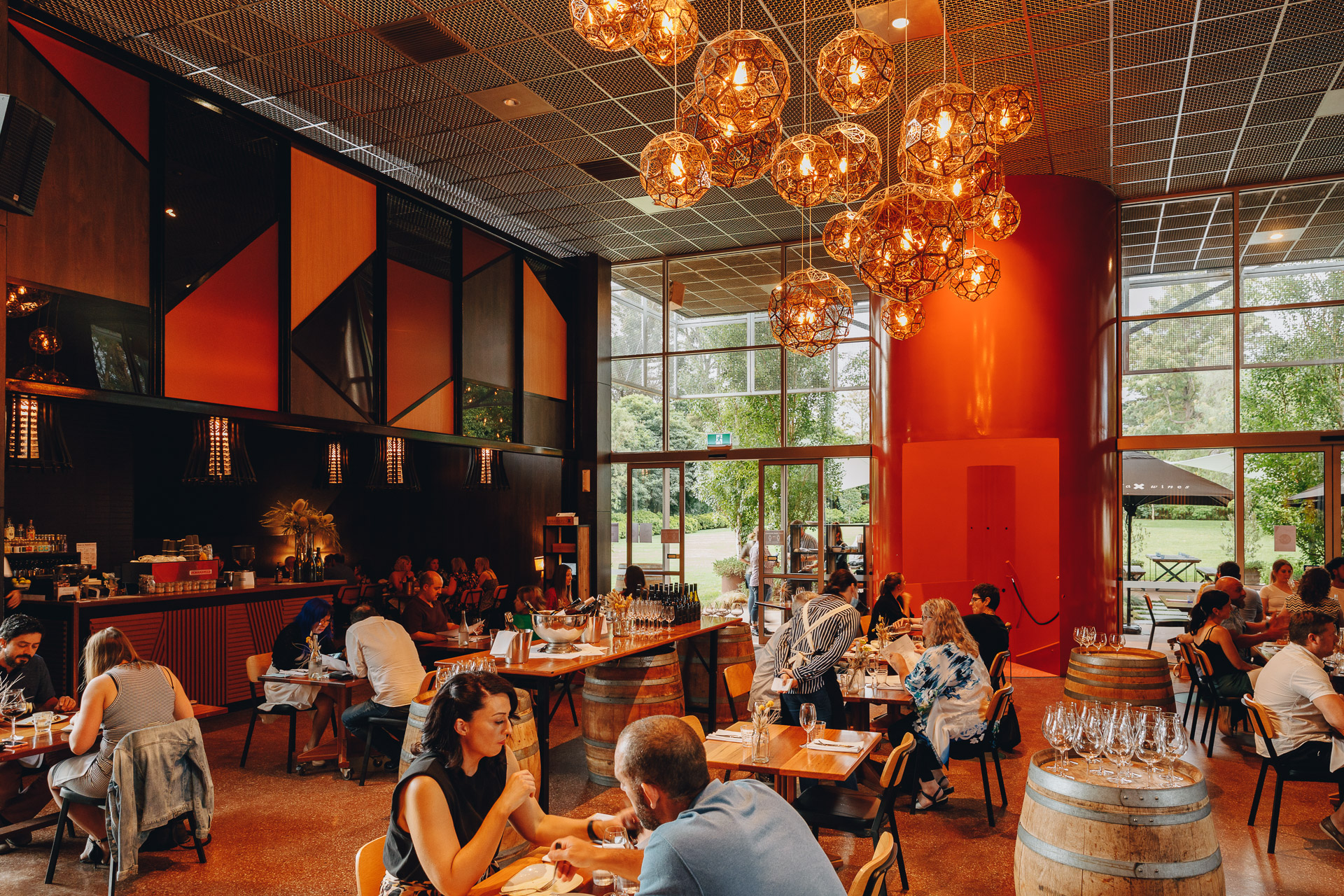 Afternoon
Wander back to Lancemore Mansion Hotel for an afternoon of relaxation and pampering. The boutique hotel is home to one of Melbourne's most exclusive day spas, L.M. Spa. There are a range of treatments and spa packages to choose from, such as the Couples Recovery package.
Designed to be enjoyed together, this 90-minute experience includes a soothing spa soak, sweet treat with a glass of sparkling, followed by a full body relaxation massage in the tranquillity suite. The cost is $490 per couple. L.M. Spa also features a heated indoor pool and sauna, so why not relax poolside with a cup of herbal tea to unwind after your treatment.
Dinner
Lancemore Mansion Hotel's signature restaurant Joseph's Dining is undoubtedly one of the dining drawcards of the region. This fine dining restaurant offers an unforgettable experience where impeccable service, modern cuisine and fine Australian wine collide.
Their exquisite menu focuses on seasonal local produce, some of which is from Werribee Park's very own farm. We suggest making a reservation for 6:00pm to allow time for your after-dinner entertainment.
Image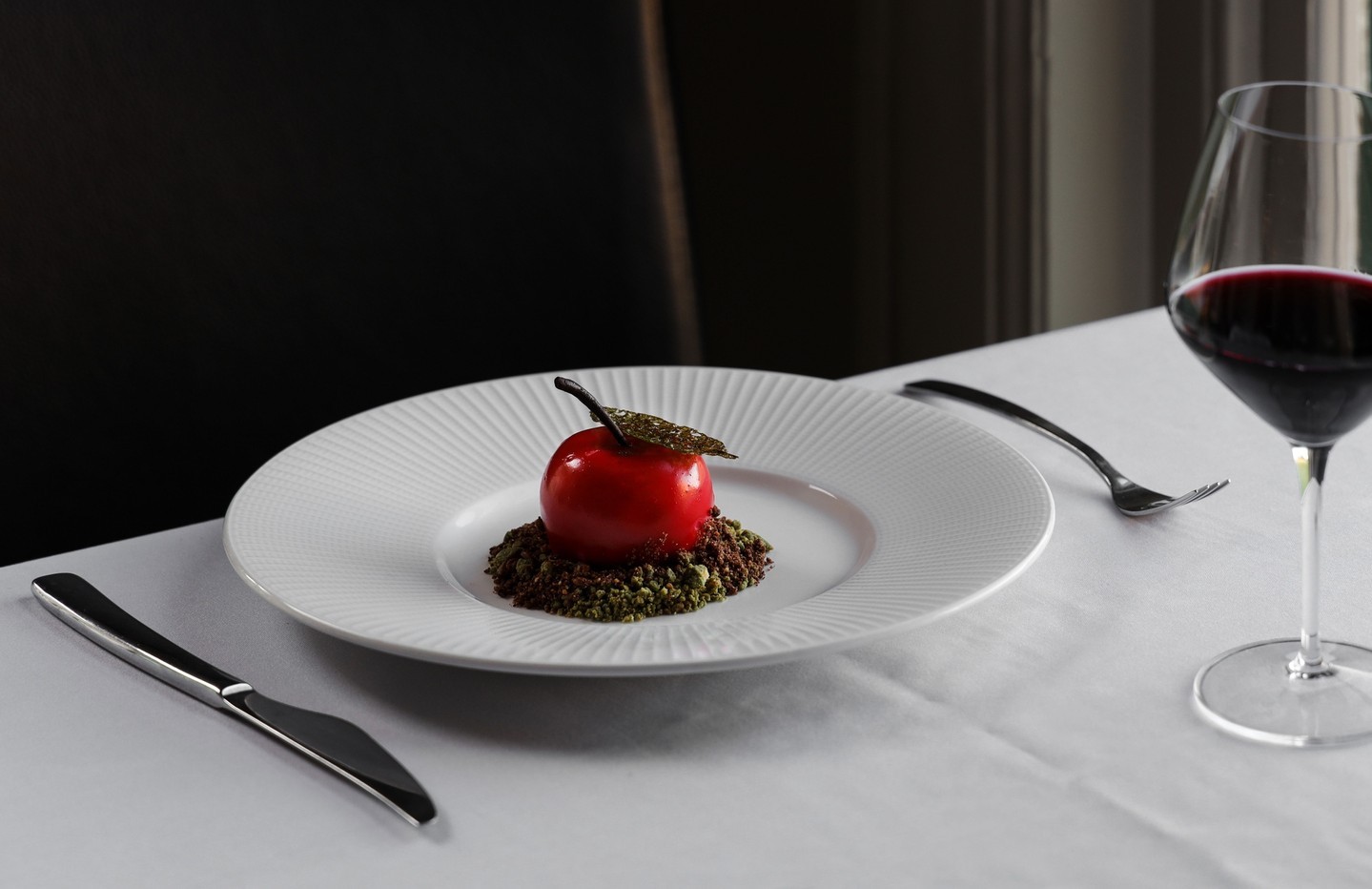 Evening
After dinner, it's time to experience a different side of Werribee Park Mansion with 'What Was That?', an immersive play performed by Essence Theatre Productions. Based on true stories, 'Maggie' (the head maid) and 'Mr Duncan' (the head butler) will guide you through the Mansion with the play unfolding as you move from room to room. Beginning at 8:00pm, the performance combines history, comedy and a few scary elements too, concluding with a glass of sparkling wine or soft drink. Tickets are $45 per adult. After the play, it's only a short walk back to your hotel next door.
Day 3 - Sunday
A foodie adventure
Morning
Sleep in and enjoy the scrumptious breakfast at Lancemore Mansion Hotel. If you feel like trying something different, head across the road from Werribee Park to Wyndham Cache.  Wyndham Cache is known for their excellent breakfast options like the Breaky Buster with eggs your way, lamb and rosemary sausage, field mushroom, hash brown, baby spinach and roast tomato served on toasted sourdough. Yum! There's also a great selection of cafes to enjoy a Sunday brunch in Watton Street, such as Wolf on Watton and Notorious Espresso.
This morning you can explore the beautiful gardens of Werribee Park. A highlight is the internationally acclaimed Victoria State Rose Garden. Spreading over six acres, there are over 5000 roses on display. The best time to see the roses in full bloom is between November and April, however it's still a gorgeous garden to visit all year round. The garden is cared for by a passionate team of volunteers. Entry is free but donations are gratefully accepted.
Image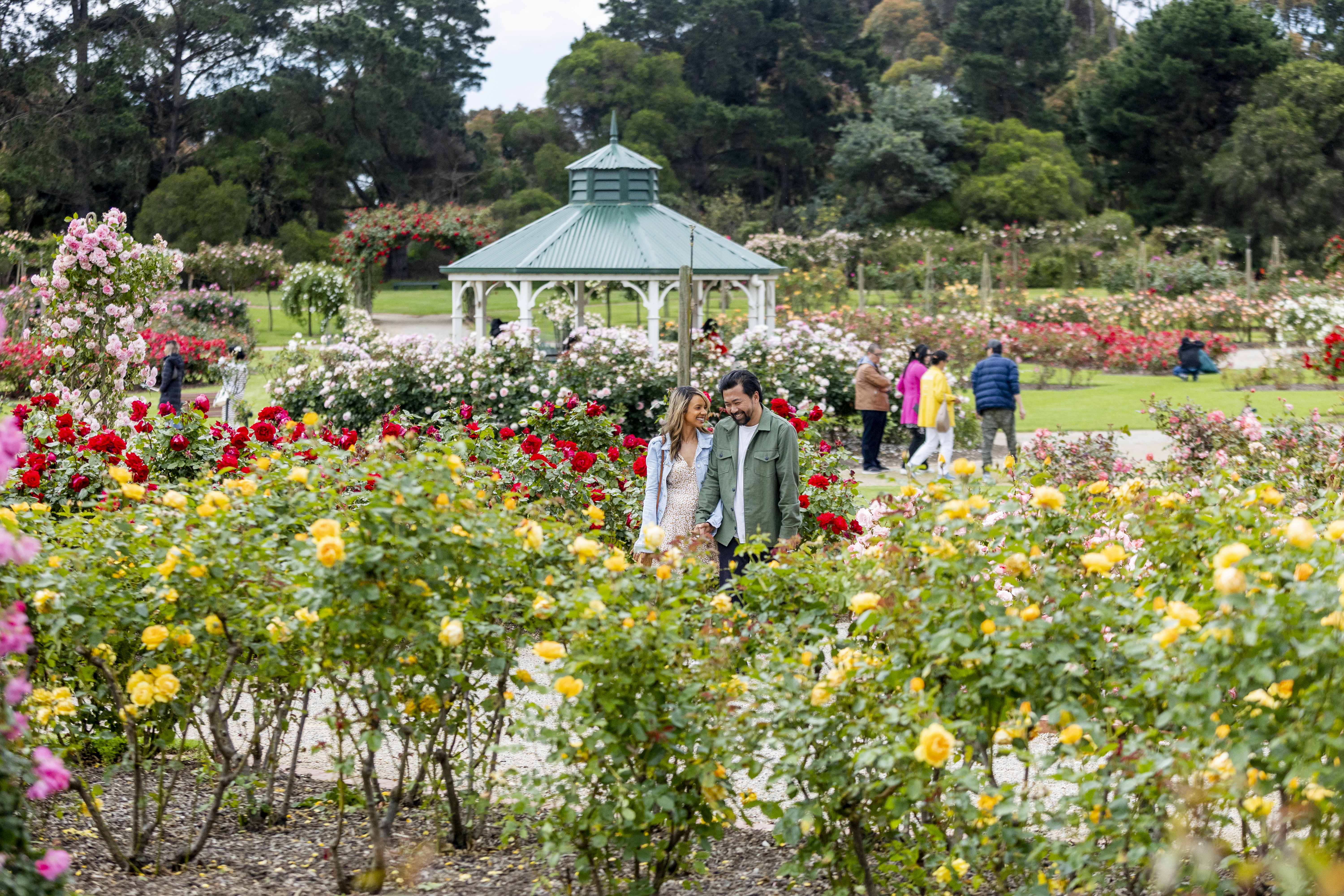 Wander through the formal gardens of Werribee Park and marvel at the manicured landscape, intricately designed grotto and ornamental lake. You'll also find a heritage orchard with rare fruit trees, originally planted by the Chirnside family in the late 1800s. A group of volunteers meet every week to continue restoring and preserving the orchard.
Lunch
In the west wing of Werribee Park Mansion you'll find The Refectory, a heritage venue filled with classic charm. During warmer months, their garden-style café The Refectory Parlour is perfect for dining alfresco under the Mansion eaves. You can also pick up a pre-ordered picnic hamper to enjoy anywhere in the beautiful gardens of Werribee Park.
Every Sunday from May to August this year, The Refectory will be hosting their decadent Winter High Tea, starting at 1:00pm. Enjoy a menu ranging from chicken, celery and almond finger sandwiches, to smoked salmon and dill blinis with caper remoulade. And of course, High Tea wouldn't be complete without fresh scones with raspberry jam and double cream. The Winter High Tea is $150 per couple, with the option of adding $35 per person for bottomless sparkling wine and Pimm's or Aperol Spritz cocktail carafes.
Image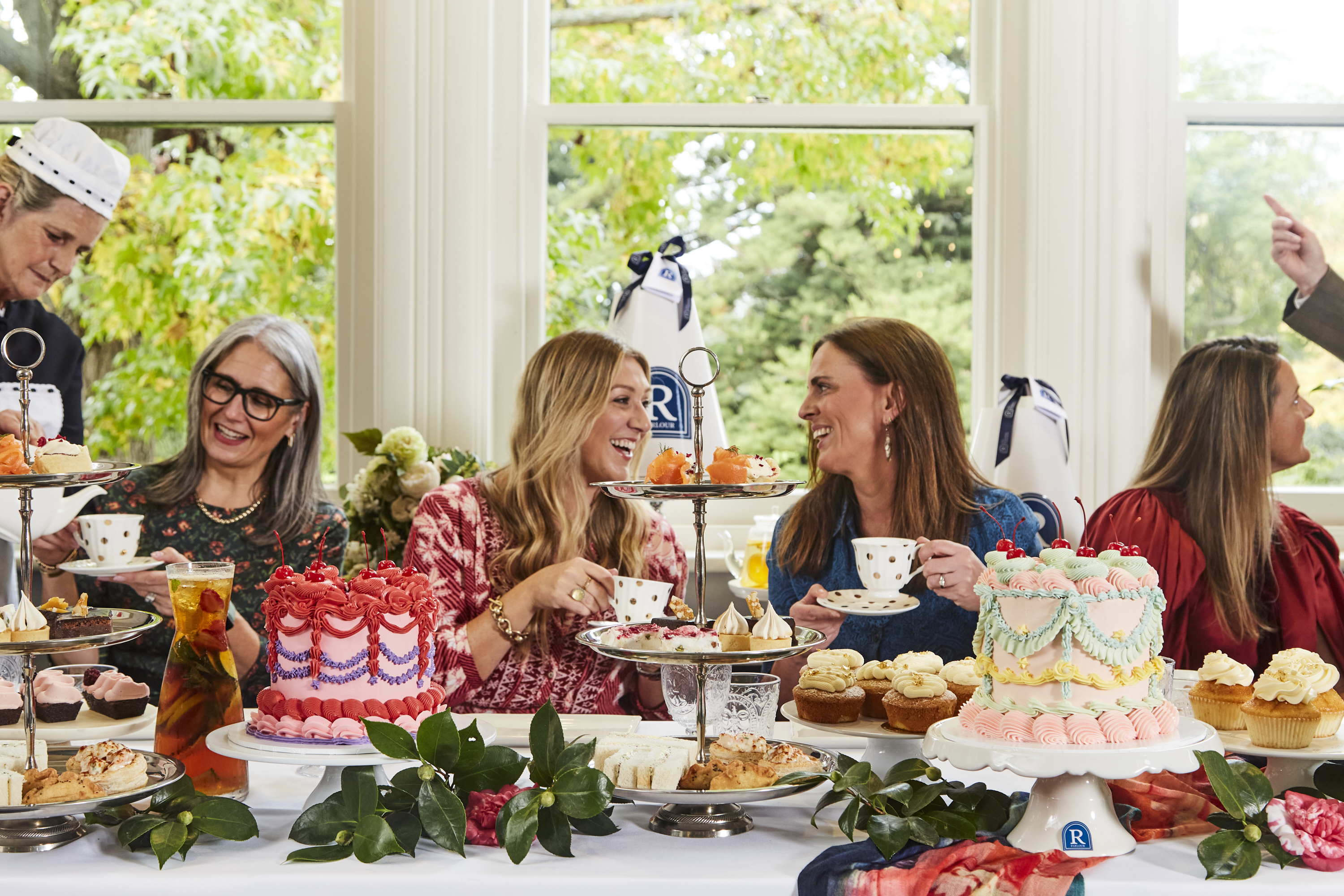 Afternoon
After High Tea, venture into Werribee City Centre to kick back with Sunday Sessions at either of Werribee's classic pubs in Watton Street. From 3:00pm every Sunday, The Bridge Hotel has live music and The Park Werribee's resident DJ plays strictly vinyl beats.
Dinner
The leafy avenue of Watton Street is the epicentre of Werribee's food scene. You are spoilt for choice when it comes to dinner this evening, with Italian, Mexican, Afghan, Sri Lankan, Indian, Middle Eastern, and Vietnamese cuisine – just to name a few!
At the west end of Watton Street you'll find Mama Lor, a family-owned and operated Filipino restaurant and bakery. Their barbecue dishes are a stand-out, the very heart and soul of Filipino street-food culture. The crispy roasted pork belly is also a must try. For dessert, you can't go past the Ube Crème. Mama Lor's take on a panna cotta features a sweet purple yam (ube) filling and is topped with ube cake crumbs.
Image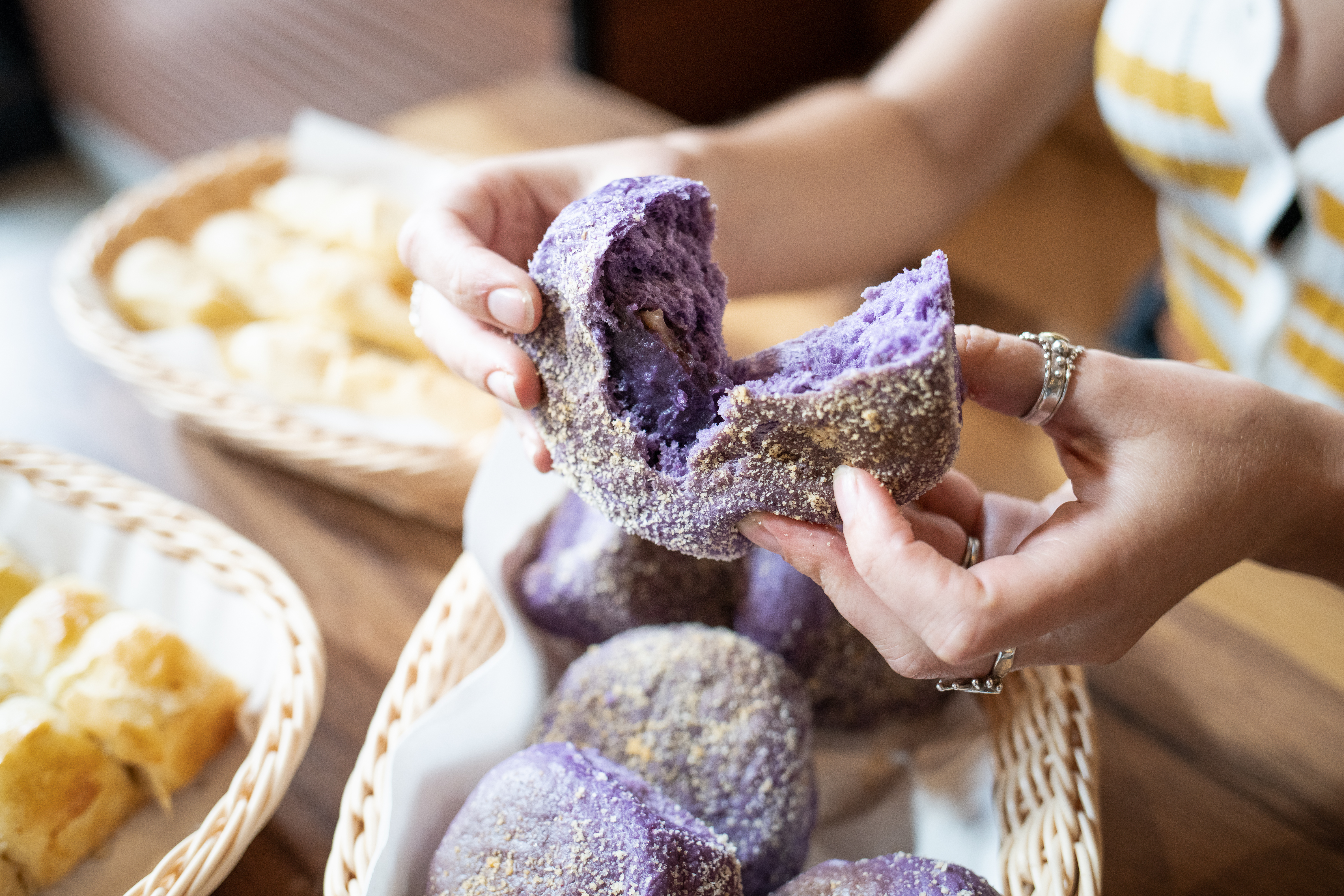 Day 4 – Monday
A final little detour
After breakfast, why not make the most of Lancemore Mansion Hotel's facilities before you depart this morning. Play a game of snooker or find a cosy spot in the library to read a book by the crackling fireplace. After check out (before 11:00am), head to Watton Street to pick up some freshly made panini and delicious homemade cannoli for a packed lunch from The Little Deli & Panini Bar.
For an unforgettable wildlife experience, arrange a private birdwatching tour of the Western Treatment Plant. Located 20 minutes west of central Werribee, the Western Treatment Plant is roughly the size of Phillip Island. More than 300 bird species have been recorded there, making it one of Australia's best places for birdwatching. Recently the Western Treatment Plant has appointed two licensed tour operators for birdwatching tours: Firetail Birdwatching Tours and Melbourne Birding Tours.
Bookings need to be made in advance and your guide will be able to arrange an experience that is tailored just for you. The cost will vary depending on the length of tour (from approximately $350 per couple for a half day tour).
Image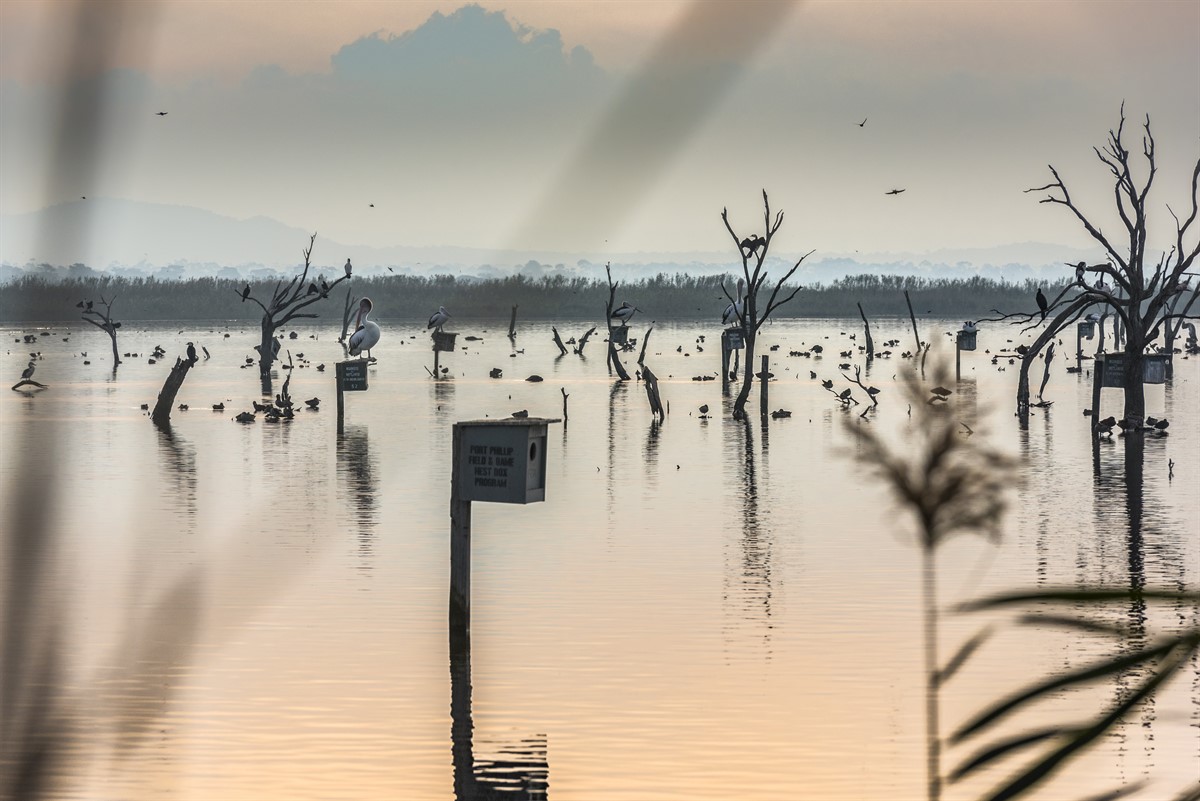 If you have a long journey home, remember to plan ahead, pull over, and recharge. Consider visiting tac.vic.gov.au/pausestop for an interactive map of Victoria showing Driver Reviver rest stop locations, VicRoads rest areas and Visitor Information Centres to help you take a break from the road.
Thank you for visiting
See you again soon!